Stacking is the new ultra-trendy way of wearing jewellery by accumulation. The general idea is to associate several pieces of jewellery to create a stylish and sophisticated combo!
Not always easy to implement, without the risk of looking like a Christmas tree.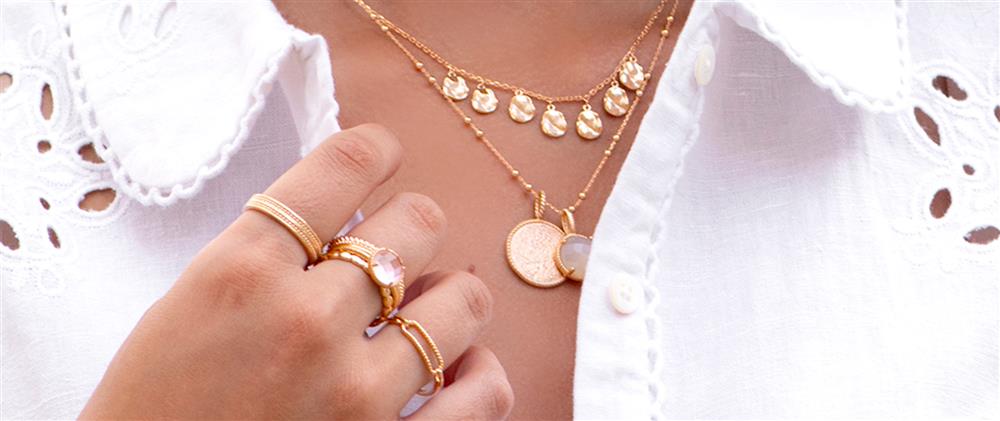 Here are our precious tips for successful accumulations:
DARE to mix materials: shiny, matt, pearled, hammered, for maximum effect! Don't be shy !
MIX jewels with and without stones, to create nuances and bring a touch of colour to a 100% metal look.
MIX the thicknesses, for example by mixing small thin rings next to a voluminous ring, for more dimension in the accumulation.
Another idea is to mix the delicacy of a fine chain bracelet in the middle of several rings. The only risk: annoying our favourite colleague by the noise of the clashing bracelets!
STACK the small pieces as you wish. There's nothing prettier than a row of thin rings on the annular, 4, 5 or 6, or even more, you decide. We love it!

OVERLAP the necklaces at will by mixing different lengths of chains, the effect is guaranteed!
Play with our adjustable chains and create a necklaces waterfall!
PLACE the longest pendants near the cleavage and the smallest near the neck. The idea is to break up the shapes.
DRESS your ears with dangling earrings at the lobe, then back up with smaller chips.
The must-have trend of the moment:
The mini-creole, which can be found everywhere. Simple and effective, it lends itself very easily to the game of stacking.
The mini-creole will soon be available on our e-shop and will be available in a large number of models and shades to create ultra-desirable combinations. Stay tuned!
The icing on the cake this summer will be the ear ring!
Whether it's paired with a simple chip for a minimalist look or with several small hoop earrings for a fashionable effect, the ear ring will be the key to a successful accumulation
Just a few more days of waiting, and the first Ana & Cha ear rings will be available online. We can't wait for you to discover them.
Now it's your turn to try out these tips.
Don't hesitate to tag @anaetchaparis on your looks.
And you ? What are your tips for successful stacking? We look forward to hearing from you!